Our tagline is Future of Quality: Risk®.  Don't believe it?  See this data from Google Ngram.
ISO's tagline is 'Risk Based Thinking.'  CERM Bootcamp is the only certificate that covers the critical elements for establishing a based risk assessment/management program.
The Certified Enterprise Risk Manager® is a certificate program for professionals to learn risk-based problem solving and risk-based decision making tools based on ISO 31K, COSO, IEC, NIST 800, and other risk frameworks.  American Society for Quality (ASQ), Institute of Supply Management (ISM), Project Management Institute (PMI) and engineering associations are incorporating risk management into their bodies of knowledge.  Candidates leave the bootcamp with risk-based frameworks, processes, and tools that can be immediately applied in any business or organizational setting.  The Bootcamp is based upon and requires 1000 pages of review of the following textbooks that are core to the Bootcamp: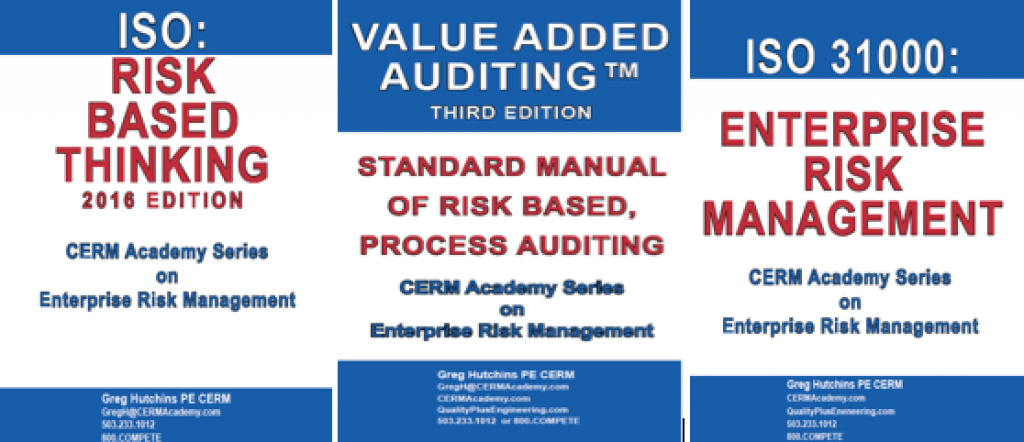 Note: Visit CERM Risk Insights for more than 1,200 articles on risk and ISO 31000.
Greg Hutchins, best selling author of ISO risk, ISO 9001, and risk assurance books, is the lead presenter in the Bootcamp.  Please see right for books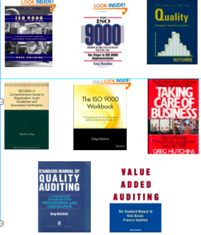 CERM Bootcamp covers the following material and body of knowledge.
The CERM Bootcamp compresses the following workshops into a 4 1/2 day bootcamp.  The Bootcamp covers the following critical workshops:
The Bootcamp features:
Five days of intense risk management learning, sharing, examples, discussion, and case studies covering operational Governance, Risk, and Compliance (GRC), ISO Risk Based Thinking, and Enterprise Risk Management (ERM).
Attendees get the following: Value Added Auditing book (400 pages), ISO: Risk Based Thinking (300 pages), slide decks (300 pages), risk guidelines (100 pages), etc.  Certificate exam is optional
How-to information and examples on designing and deploying operational internal control frameworks that satisfy regulatory and ISO requirements (including ISO 9001:2015).
Coverage of the most critical operational risk management frameworks and how-to examples for operationalizing them in projects and processes.
Latest on 1. Risk based, problem solving and 2. Risk based, decision making.
New research, trend updates, best practices, and tools on operational risk management.
Reduced fee access to risk based webinars and complimentary risk resources and standards.
The CERM Bootcamp also includes a certificate exam at the end of the 5 days.
Note:  Next bootcamps are internal to organizations, contact us at 503.233.1012 if you're interested in an Bootcamp in your organization.
To Register for CERM Bootcamp:
Seattle, Washington (USA) CERM Bootcamp
June 12 to June 16, 2017
Seattle, Washington, USA
Cost $1,950 (USD)
Note: If you're interested in a closer date or internal Bootcamp, reach out to us at 503.233.1012
Contact Information
Greg Hutchins PE CERM
GregH@CERMAcademy.com
GregH@europa.com
503.233.1012 or 800.COMPETE (US)
Or use this form:
[contact-form-7 404 "Not Found"]
Speaker:
Greg Hutchins is the principal engineer with Quality + Engineering – a Portland Oregon based Critical Infrastructure Protection: Forensics, Assurance, Analytics® firm.  Greg is the author of the best selling books: ISO 9000, Supply Management Strategies, Operational Auditing,Value Added Auditing, Working it and many other books.
Q+E is the developer of Certified Enterprise Risk Manager® certificate, Value Added Auditing®, and other risk based methodologies.  Q+E has taken the global lead in preparing the quality profession to risk management.  See the slide deck that went viral on the web: Risk Management: The Future of Quality.
Attendees:
Operations professionals in supply management, logistics, quality, engineering, manufacturing, and finance.  Customer executives and supply senior management will learn how supply risk management fits into your company's ERM and GRC programs.
Terms and Conditions:
All Bootcamp participants must read and agree to the below Terms and Conditions: